Mini-LaManchas - some for sale
* Prices subject to change as goats kid and are in milk, etc. Possible package deals. Does listed first, bucks towards the bottom of page. Standard LaMancha goats on a different page. Working on getting udder pics posted. Not everything is listed & updated here as there is not enough hours in the day.....
My FAVORITE!!! The best of both worlds between a standard LaMancha and Nigerian Dwarf in that you get the hardiness & efficiency of a nigie but calmer, better temperament & more volume of that fantastic dairy goodness!
Lucky Charm's DC Darling (charm) For Sale $ ( n/a), in milk
2012 doe, brown w/balck points &white, F4, 47.66% LM
Sire: FCH Spiritwind Ghost Rider in the Sky
Dam: Lucky Charm's Dark Chocolate
Super milky for her size. Darling girl !

---

Lucky Charm's Cindy Lou
For sale $ 595, in milk
2012 doe, black & white,F3,40.62%LM
Sire: FCH Ghost Rider in the Sky
Dam: Lucky Charm's Cookies 'n Cream
Got her first "Grand" at the 2014 Syringa Show. Reserve Grand 2013 Sunhill Classic. Judges love her! Quality in a small package, winning over the bigger goats. Possibly very regretfully available later this year.

---

Sunspring's MW Angel For Sale $ (n/a), in milk
2014 doe, black, Blue eyes.
F3, 61.79%LM
Sire: Echo Hill's MT Moon Walker
Dam: Creamcup Amaretto Angelica
Darling & Productive dam w/ nice teats, correct doeling. May be regretfully available later 2017, We sure wish we could keep more than we can.

---

Sunspring's MW PB & J (pic above)
For Sale $ ( n/a ) in milk
2014 doe, tricolor, blue eyes, F3, 62.57%LM
Sire: Echo Hill's MT Moon Walker
Dam: Creamcup Moon Confetti
Flashy little tri-color. Just kidded. Goofy pic but she's a doll! May be available later 2017.

Sunspring's MAS Squiggles The Skunk
For Sale $( n/a) dry yearling
3/22/16 Doeling, black & tan, white, Polled, F1
​Dam: Sunspring's MW Squirrel
Sire: Sunsprings M Maserati (ADGA)
Super gorgeous! Just came home from the show with 2 Junior Grand Champion titles! We have way too many so we aren't breeding our yearlings until later

---

Sunspring's MAS Halo
For Sale $ 295 open, or $395 bred
2016 doeling chocolate/black,Blue eyes, F1
Dam: Sunspring's MW Angel
Sire: Sunspring's M Maserati (ADGA)
Should be milky! She is just standing goofy in the pic but I couldn't resist watching her play with Megan. Hoping to get her into breeding pen soon for later kids.

---

Sunsprings OD Craisin
For Sale $ 395, dry yearling
3/25/16 doeling, chocolate swiss, F1
Dam: Creamcup Deja Raisonette
Sire: Sunsprings C One Direction (ADGA)
She really should be milky! We have way too many so are having to wait a bit to breed her.

---

Sunspring's MAS Betty Lou
For Sale $ 350 dry yearling
4/6/16 Doeling, brown& white, F1
Dam: Lucky Charm's Cindy Lou
Sire: Sunsprings M Maserati (ADGA)
Lovely little girl should be very milky! We have way too many so we aren't breeding our younger yearlings until late. May take less in a package deal.

---

Sunspring's MAS Ghiradelli
For Sale $ (possible), dry yearling
3/27/16 Doeling, choc w/ bit of white, polled, F1
Dam: Sunspring's MW Pandamonium
Sire: Sunsprings M Maserati (ADGA)
Will be milky for her size! Extra friendly, too! May be avialable later 2017

---

Sunspring's MAS Godiva
For Sale $ 395, dry yearling
3/27/16 Doeling, chocolate, Polled, F1
Dam: Sunspring's MW Pandamonium
Sire: Sunsprings M Maserati (ADGA)
Nice little dairy package. Super Friendly!

---

Sunspring's MAS Sprite
For Sale $ 450, dry yearling
2016 gold, blue eyes, polled, F1
Dam: Sunspring's C Lemon Twist
Sire: Sunsprings M Maserati (ADGA)
We are holding off breeding our younger yearlings until later this year. This doe will stay smaller but will produce well for her size.

---

Sunspring's C Glory (pictured)
For Sale $ 450
4/7/16 Doeling, Black & white, F1
Dam: Wonderful Farm WIFI Mary (ADGA) Sire: Sunspring's K Cinema
Dam first freshened doing 8lbs. Nice for a small standard doe. Great dairy prospect! We will work on getting a better pic. She really is a super little girl!

---

Sunspring's C Ballerina
​For Sale $295
4/19/17 cream & white, F4
Dam: Sunspring's MW Pirouette
Sire: Sunspring's KK Cinema
Just a super nice little doeling! Love the way her mama milks for such a little mancha.

---

Sunspring's C Aurora Borealis (Peanut)
For Sale $ (n/a)
4/2 /17 chamoisee, F4, Blue eyes
Dam: Sunspring's MW Angel
Sire: Sunspring's KK Cinema
​Megan has claimed this little darling so I don't expect her to be coming up on the market anytime soon!

---

Sunspring's C Terry
For Sale $225
6/5/17 Black & tan, Polled, F1
Dam: Wonderful Farm Wifi Mary
Sire: Sunspring's KK Cinema
A real sweetheart with lots of milk in her future!

---

Sunspring's H Pink Lemonade
For Sale $395
5/7/17 very light red (Pink) w/ roaning & white, F2
(faded now to light gold)
Dam: Sunspring's MW Blue Lemon
Sire: Sunspring's MAS Holland
Out of our very nice Grand Champion doe "Lemon". We think she will do well.



---

----------------------------------------------------------------------------
QUICK List: Ask for details if something looks interesting. Looks like this is it until 2018 (​Wow! Looks like I got just about everybody posted under their own listing. Stay tuned for 2018)

I will try to update these with more info soon....

Sunspring's MW Blue Lemon For Sale $ (n/a) in milk
1/1/14 doe, gold/bit of white, blue eyes, F2, 70.10%LM
Sire: Echo Hills MT Moon Walker
Dam: Creamcup HC Lemon Chiffon
Took Grand Champion at Syringa 2014. Just got another Grand in both MDGA & TMGR! Beautiful udder! Also won "Best in show", "Best Udder". Lemon is gorgeous and milky, too! Just freshened with triplets. Her 2017 super doelings are regretfully for sale as well. Take home her very nice buckling for $195 !!!

---

Sunspring's MW Pirouette For Sale $ ( n/a ), in milk
2/18/14 doe, black &white, Blue eyes, F3, 67.55%LM
Sire: Echo Hills MT Moon Walker
Dam: Creamcup Moon Dancer
Pirouette is a lovely small doeling producing a nice amount of milk for her size.

---

Sunspring's MW Squirrel (pic as yearling) For Sale $ ( n/a), in milk
3/3/14 doe, black&tan, Blue eyes
F3, 58.66%LM
Sire: Echo Hills MT Moon Walker
Dam: Creamcup Moon Morocco
A real sweetheart. Gorgeous udder! Dam did well in show ring & productive. Love this little girl!

---

Sunspring's C Possum
For Sale $495, in milk
2015 Doe, Brown,tan & white, F3
Dam: Sunspring's MW Squirrel
Sire: Sunspring's KK Cinema
Productive 2nd freshener. Sweet girl. Her sister just won 2 junior grand titles. We are short on space/time and having to drastically cut back otherwise we would not consider letting her go :(

---

Sunspring's KK Roxette
PENDING $495, in milk
2015 doe, light red & white, F3
Dam: Creamcup Deja Raisinette
Sire: Creamcup Kit Kool
First freshener, Milks like a dream & flashy to boot! We may take a bit less if she goes with another. I really am not happy about selling this gal but we have way too many.

---

Sunspring's R Jolie
For Sale $ 450, dry yearling
4/10/16 Doeling, red, F1
Dam: Sunspring's MW Angie
Sire: KaryDairy Rusty (ADGA)
This is the sweetest little girl. Should be milky! We have way too many so we aren't breeding our younger yearlings until late.

---

Sunspring's R Gardenia
For Sale $250 open, or $350 bred
2016 cream doeling, F1
Dam: Creamcup Pistol Bellflower
Sire: KaryDairy Rusty (ADGA)
Putting her in breeding pen soon. Lovely doe and should really produce! We bred her for our commercial dairy that is now on hold. We may do a Super deal if bought in a package with others!

---

Sunspring's MAS Rootbeer
For Sale $295, if bought with another
2016 brown swiss marked, F1
Dam: Sunspring's C Lemon Twist
Sire: Sunsprings M Maserati (ADGA)
Putting her in the breeding pen soon. Bred to produce milk!

---

Sunspring's R Candy
For Sale $ 495 dry yearling
2016 gold doeling, F1, Polled
Dam: Creamcup HC Sugar
Sire: KaryDairy Rusty (ADGA)
Very nice doe. There should be a lot of milk here as we bred her for our commercial dairy. Putting her in a breeding pen soon.

---

Sunspring's C Legacy In Motion
For Sale $ (possible later summer)
2017 black & tan, Polled, F1
Dam: Sunsprings R Heart Moon
Sire: Sunspring's KK Cinema
Should be an excellent doe! Just came home from the show with a reserve Junior Grand Champion. The only mini doeling we have from our "Motion" line so we aren't too anxious to let her go but we will see how the year is ending up.

---

Sunspring's H Cynthia
For Sale $295
4/27/17 black & tan, white topknot, Polled, F3
Dam: Lucky Charm's Cindy Lou
Sire: Sunspring's MAS Holland
​Nice little girl out of 2 grand champion parents! And Polled!

---

Sunspring's C Berry
For Sale $250
6/ 5/17 Dark chocolate brown solid, Polled, F1
Dam: Wonderful Farm Wifi Mary
Sire: Sunspring's KK Cinema
​Super friendly girl with a lot of future milk!

---

Sunspring's B Mouse
For Sale $225
5/13/17 doeling, black & white, F2
Dam: Sunspring's C Possum
Sire: Sunspring's KK Buddy The Elf
This little girl is a bit shy but sweet. She has the bloodlines to make a lot of milk for her size.

---

Sunspring's H Lemon Sunshine
​For Sale $375
5/7/17 Gold, F2
Dam: Sunspring's MW Blue Lemon
Sire: Sunspring's MAS Holland
Another darling doeling out of our Grand Champion doe "Lemon". So hard to pick which one to keep!
​


---

*** 2017 Mini-Lamancha Doelings & bucklings now arriving!
Possible discounts if bought in a package.
​ Doelings starting around $175-195 on up. We may be able to do unregistered pet prices on a few of the doelings. Wethers start at $55 in pkg, intact bucklings more.

---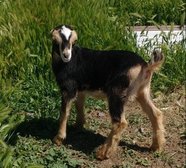 Bucks
Sunspring's MAS Holland
For Sale $295
5/28/16 black & rust swiss marked, F1
​ Polled
Dam: Sunspring's MW Tulip
Sire: Sunspring's M Maserati
We are getting lots of polled kids from this guy. He just won Grand Champion Bucks at his very first show! They should really milk, too! We have a lot of his daughters so time to go down the road.

---

Sunspring's C Heart in Motion
For Sale $395, partner ?
​2/25/17 Polled, black, F1
Dam: Sunspring's R Heart Moon
Sire: Sunspring's KK Cinema
Super herd sire prospect! The only buck out of our "Motion Line". His daughters will produce and have lovely udders!

---

Sunspring's H Cynergy
For Sale $295
4/27/17 Polled, black & tan, F2
Dam: Lucky Charm's Cindy Lou
Sire: Sunspring's MAS Holland
This little guy is out of our little Grand Champion Cindy and by our grand Champion Holland. He could throw you some nice kids. We just can't keep them all!

---

Ask about available 2017 bucklings ready to go!

Sunspring's K Cinema (Buck)
​SOLD $ 395, consider partner
2014 black&tan w/ white, F3, 52.64%LM
Sire: Creamcup Kit Kool
Dam: Lucky Charm's Cindy Lou
Nice flashy little guy out of our small grand champion doe. Throwing some beautiful looking kids. His first freshener daughters udders are amazing!

---

Susnpring's MAS Reeses Pieces
For Sale $295, trade?
6/15/16 brown swiss marked, F1, Polled
Dam: Sunspring's MW PB & J
Sire: Sunspring'sM Maserati (ADGA)
This little guy is small for an F1. He great if you are wanting to get pint sized milkers that produces like the big girls!

---

Sunspring's PC Mikhail
For Sale $ 495/ 295, after breed season
7/24/16 gold & white, F4, Blue eyes
Dam: Sunspring's MW Pirouette
Sire: Sunspring's MW Prince Charmed
This little guy is very cute but not bottle fed. Both sides dams are very milky for their size. He will get the job done for you & pass on some of those blue eyes.

---

Sunspring's H Lemon Lime
​For Sale $295
5/7/17 black & tan, F2
Dam: Sunspring's MW Blue Lemon
Sire: Sunspring's MAS Holland
Nice herd sire prospect out of 2 grand champions!
Discount if he went in a package!

---
Reference & Recently Sold :
Susnpring's C Angelina
SOLD $ 350, in milk
2015 Doe, Brown & White, F4
Dam: Sunspring's MW Angie
Sire: Sunspring's KK Cinema
NIce 2nd freshener! Ask about discount for package deals!

---

Sunspring's R Gooseberry
SOLD $195 open, $295 bred
2016 dark cream doeling, F1
Dam: Creamcup ___ Thimbleberry
Sire: KaryDairy Rusty (ADGA)
This little girl should really produce a lot of milk for her size. Putting her in the breeding pen soon. We may do a Super deal if bought with another!

---

Sunspring's C Joy
SOLD $195, if bought with another
2/12/17, chamoisee doeling, F4
Dam: Sunspring's MW Delight
Sire: Sunspring's K Cinema
Super little girl! Dam and Grand dam are outstanding producers for their size. Daddy has been throwing wonderful udders.

---

Sunspring's MW Delight
SOLD $ 495 in milk
2015 doe, chamoise, bred
Dam: Lucky Charm's DC Darling
Sire: EchoHills MT Moonwalker
Dam is a fantastic milker for her size!
Retaining for now. This little gal is due anyday for her first freshening and her udder is huge! Just freshened with 3 adorable kids that are for sale. 2 does & a buck.

---

Sunspring's MW Pandamonium
SOLD $ 495, bred
2014 doe, black & white,
F2, 70.78%LM, g
Sire: Echo Hill's MT Moon Walker
Dam: Creamcup Sunset Chao
Lovely doeling & I really liked her dam who milked out like a dream!

---

Sunspring's MW Pandora
SOLD $ 395, in milk, bred
2014 doe, black & white, F2, 70.78%LM, g
Sire: Echo Hill's MT Moon Walker
Dam: Creamcup Sunset Chaos
Nice, sweet doe. Good to milk. Nice texture, just like her mother's "butter-udder".

---

Creamcup Deja Raisonette SOLD $ 295, in milk
2010 doe, black roan & white, F3,
48.05%LM, e
Sire: Echo Hill's Deja Vu
Dam: Phantasma Creamcup Divinity
F3 PSE 89.40. Milking around 7.5lbs. with a nicely attached udder and wonderful open orifices ( Update: loses half of udder due to mastitis. She milks fine out of her remaining half and fed 2 piggie bucklings this year.)


---

Sunspring's C Lemon Twist
SOLD $ 495, in milk
2015 doe, gold & white, blue eyes, in milk
Dam: Sunspring's MW Blue Lemon
Sire: Sunspring's KK Cinema
Lovely yearling first freshener with triplets!

---

Creamcup HC Sugar
SOLD $395, in milk
2012 doe, tan, reverse swiss marked
F1, 71.88%LM, gopher ears
Sire: The KaryDairy Himalayan Cat
Dam: Creamcup Kumquat Cinnamon Toast
Nice doe! Pic coming soon. Great deal on this doe if bought in a package!


---

Sunspring's MW Chipmunk
SOLD $195 dry or $395 bred?
3/3/14 doe, black&tan, blue eyes, F3, 58.66%LM, g
Sire: Echo Hills MT Moon Walker
Dam: Creamcup Moon Morocco
A little shy but correct and super cute! Nice & wide. Dam did well in show ring & productive. Not sure if she is going to settle. So without papers, I could let this doe go for $95


---

Creamcup Pistol Bellflower
SOLD $295, in milk
2012 doe, black white swiss marked
F2, 53.9%LM, elf ears
A little shy but good to hand milk once she knows your routine. Great deal on this doe if bought in a package!


---

Sunspring's MW Spice
* SOLD $ 395, in milk
3/ /14 doe, black&tanw/white spots, blue eyes, F3, 68.785%LM, g
Sire: Echo Hills MT Moon Walker
Dam: Creamcup Moon Patchouli
Dam was productive. Sweet, correct doeling! May be available spring 2015. Working on updated pic…



---

Sunspring's MW Peanut Butter * SOLD $ 395, in milk
2014 doe, red & white, F3, 62.57%LM, g
Sire: Echo Hill's MT Moon Walker
Dam: Creamcup Moon Confetti
Flashy girl! But it was a terrible day for pics...



---

2015 Gorgeous tri-color, blue eyed buckling $350 (SOLD)
Sire: Sunsprings KK Cinema
Dam: Sunsprings MW Tulip

---

Sunspring's MW Tulip SOLD $ 495, in milk
2/23/14 doe, dark gold&white, blue eyes, wattles, F3, 51.11%LM, g
Sire: Echo Hills MT Moon Walker
Dam: Creamcup Deja Columbine
(sorry bad pic, update soon!) Lovely, friendly doeling w/ blue eyes. Nice to handmilk.


---

Creamcup Amaretto Thimbleberry
SOLD $ 295, in milk
2011 doe, black and tan
F2, 60.17%LM, gopher ears
Sire: Creamcup Hershey Amaretto
Dam: Creamcup Pistol Blackberry
She is a little shy but nice to handmilk once she knows your routine. Great deal on this doe if bought in a package!

---

Sunspring's MW Merengue
* SOLD $575 in milk
1/1/14 doe, gold/bit of white, F2, 70.10%LM, e
Sire: Echo Hills MT Moon Walker
Dam: Creamcup HC Lemon Chiffon
Full sister took Grand Champion over all this year! She is just a tiny bit darker w/ elf ears. Nice to milk, about 4lbs. as a yearling first freshener. May be available this summer.


---

Sunspring's KK Charmer
For Sale $ (HOLD) bred
2014 doe, light gold & white, 3, 56.16%LM. g
Sire: Creamcup Kit Kool
Dam: Lucky Charm's DC's Darling
Super productive dam for her size! Due for early summer kids.



---

Creamcup Kit Kool (Buck)
SOLD $250
4/18/13 black,small white spot, F2, 64.65%LM, g
Sire: Creamcup Hershey Kahlua
Dam: Creamcup Deja Kit Kat (Peaches)
Dam is a super doe with a very nice udder, big teats, great orifice! Possible discount for retained breedings.

---

Sunspring's MW Milky Way (Buck) SOLD $250
2014 black & white, F3, 55.05% LM
Sire: Echo Hill's MT Moon Walker
Dam: Creamcup Deja Raisinette
Dam is super milky for her size! Ears are not smooth gopher but I think they are less than an inch.



---

Sunspring's MW Angie
SOLD $ 495, in milk
2014 doe, black w/ white spotting, blue eyes, F3, 61.79%LM, g
Sire: Echo Hill's MT Moon Walker
Dam: Creamcup Amaretto Angelica
Nice teats, very correct dairy type doe. Friendly! I may do a nice package deal for someone with her.

---

Echo Hill's MT Moon Walker (Buck) SOLD $ 395, trade?
2012 gold w/white, Blue eyes, F2, 62.05%LM. g Sire: Echo Hill's NE 2-Bits
Dam: Echo Hill's Moon Dancer
Pic coming soon. He did well as reserve Grand last year at the show. We are thrilled with his kids this year and can't wait to see them in milk. Threw like 90% daughters – unreal! Update: daughters have been freshening with beautiful udders!
Only selling him as we have kept so many of his daughters!

---

Sunspring's MW Prince Charmed (Buck)
SOLD $ 295
2015 gold, F3, _ %LM, g
Sire: Echo Hill's MT Moon Walker
Dam: Lucky Charm's DC Darling
His dam is such a fantastic producer for her size.


---